Polish Army Museo
About the Museum
As one of the largest museums in Poland The Polish Army Museum, is committed to collecting, research and exhibition of military artefacts of historic value.The Museum was founded on 22nd April 1920, by executive order of the Marshall of Poland Józef Piłsudski, Commander-in-Chief of the Polish Armed Forces, and its collection established by the first director of the Museum, Col. Bronisław Gembarzewski. The PAM collection currently holds over 250,000 artefacts and is continually expanded by new acquisitions, purchases and donations.
The collection is made available to the public through the Museum's permanent exhibition and various temporary exhibitions. The Polish Army Museum has operating image archives, reference library and conservation studios specializing in the conservation and restoration of metal, wood, paintings, leather and textiles. The Museum provides an excellent environment for researchers and conservators.
The nature of our collection and the expertise of our team make the Museum an invaluable research and consultation centre. We partner with such organisations as the Historic Arm and Colour Association (Stowarzyszenie Miłośników Dawnej Broni i Barwy) and with institu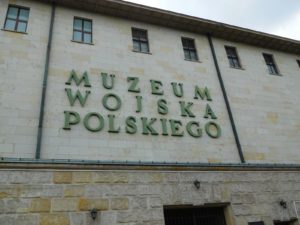 tions similar to us, often through the agency of the International Association of Museums of Arms and Military History (IAMAM). The Polish Army Museum is a member of the Polish Committee at the International Council of Museums, which operates in association with UNESCO.
How to find us
The Polish Army Museum is located in the heart of Warsaw, three bus or tram stops from the Central Train Station and two bus or tram stops from the "Centrum" Metro station. We are located in the eastern wing of the National Museum building – the end closest to the river.
By BUS – get off at "National Museum" – "Muzeum Narodowe"
111, 117, 158, 507, 517, 521
By TRAM – get off at "National Museum" – "Muzeum Narodowe"7, 8, 9, 22, 24, 25, 43
If you are driving, you can park your vehicle in a small parking lot just in front of the Museum gate or in a larger one across the street (Al. Jerozolimskie).
Coach buses may park in the far right lane of Al. Jerozolimskie (in front of the National Museum and Polish Army Museum).
Note: Regretfully, our Museum is not adapted for visitors with disabilities.
Text and info: by Website of Museum
The pictures: by AB-AvitionReporter – 27/08/2017 –
0 total views